Details
Flir TS32PRO - Using thermal technology this camera is able to accurately track the body heat of people or animals out in the wild, allowing you to effectively see through darkness, foliage and even the natural camouflage of animals. It can be used to find members of your party out in the dark, track an animal at a distance and it can even detect man-sized target at a distance of more than 500 yards.
With image quality of 320 x 240 this thermal camera produces good quality images with great detail. This basic model does not come with image capturing ability but it does have a freeze-frame mode which will temporarily store an image for you to show to someone else in your party.
The FLIR Scout TS32PRO Thermal Imaging Camera has a thermal sensitivity of 30mK NETD. A lower mK value means a more accurate thermal camera.
Key Features
Wide angle lens and high resolution mean targets can be detected from far away in clear clarity
Easily accessible buttons on top of device for switching between modes
Change between White Hot, Black Hot and InstAlert viewing modes
Specially designed lens designed not to let light escape
Freeze frame mode allows you to temporarily store an image
Lightweight, silent and durable
Video output
Starts up in just two seconds
Interchangeable lenses
Weatherproofing
2 x optical zoom
Specification
Image Resolution 320 x 240
Lens 19mm
Field of View - H x V: 24 degrees x 18 degrees
Detector Type Longwave Uncooled VOx Microbolometer
Built-In Viewfinder Display Colour VGA LCD with brightness control and on-screen symbology
Power Button On / Off / Standby
Start up from stand-by Less than 1.5 seconds
Battery Life (Operating / Stand-By): 5 Hours / 120 Hours (on included NiMH batteries)
Rating / Environmental IP-67, Submersible, 1 m drop
Unique to TS-32Pro
SD/SDHC Card Enabled (Up to 16gb)
Still Image Stores (On SD/SDHC Card)
Video Storage (MPEG 4 On SD/SDHC Card)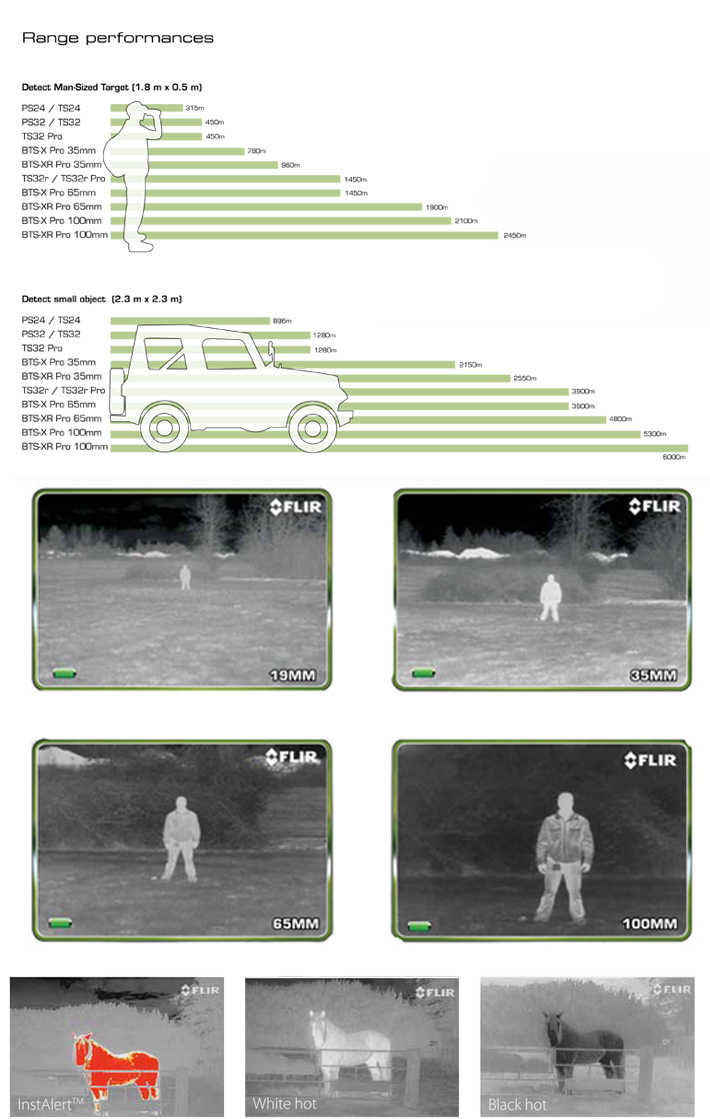 Additional Information
| | |
| --- | --- |
| SKU | TS-32PRO |
| Detector Type | Uncooled Focal Plane Array Vanadium Oxide (VOx) Microbolometer |
| Waveband | 7.5 to 13.5 μm |
| Start-up from Stand-by | 2 Seconds |
| Built-In Display | LCD Display |
| Viewfinder Video Output | PAL composite video; RCA jack |
| External Video (via RCA jack) | NTSC or PAL composite video |
| Still Image / Video Format | Yes - to SD/SDHC Card MPEG4 - 2 GB SD-card |
| Still Image / Video Storage | Yes - to SD/SDHC Card 9 Hz, Full frame up to limit of SD-card, approx. 8 seconds / MB |
| Real-Time Clock | Yes |
| USB2 Port | Image Transfer to PC |
| Battery Type | 4 AA NiMH Batteries (included) or Li-Ion or Alkaline AA |
| Battery Life | > 5 hours on NiMH batteries - 120 hours in stand-by with NiMH batteries |
| Enclosure IP Rating | IP67 |
| Size | 240 x 85 x 60 mm without extender 265 x 85 x 75 mm with 2x extender |
| FOV | 24° × 18° (12° x 9° with extender) |
| Detect Man (1.8 m × 0.5 m) | 450MM |