Details
The FLIR Scout TS-Series are rugged handheld thermal imaging cameras that have been especially developed for night time observations and hunters. Thermal imaging cameras need no light whatsoever to produce an image. They help you to see clearly at night in practically all weather circumstances.
The TS-Series produces thermal images of 240 x 180 or 320 x 240 pixels on which the smallest of details can be seen. Advanced internal camera software delivers a crisp image without the need for user adjustments.
The TS-Series come standard with a 'Hot Shoe'. Not only does it allow for tripod mounting of the TS-Series it also has a power in and video out jack. This means that you can put the TS-Series in a certain position and follow what is happening from a hidden location, on a large monitor.
Features
Guide and See at Night
Track and Stay Safe
Search as a Volunteer
Explore the Wild
Identify Uninvited Guests
Guard Your Safety
Rugged All-Weather Design is built to withstand the demands of day-in, day-out rugged outdoor use
Shuttered Eyepiece keeps light from coming out of the viewfinder and avoids alarming animals or other target subjects
Specification
Image Resolution: 240 x 180
Field of View - H x V: 24 degrees x 18 degrees
Freeze Image on LCD Display TS24 only
Detector Type Longwave Uncooled VOx Microbolometer
Built-In Viewfinder Display Colour VGA LCD with brightness control and on-screen symbology
Power Button On / Off / Standby
Start up from stand-by Less than 1.5 seconds
Battery Life (Operating / Stand-By): 5 Hours / 120 Hours (on included NiMH batteries)
Rating / Environmental IP-67, Submersible, 1 m drop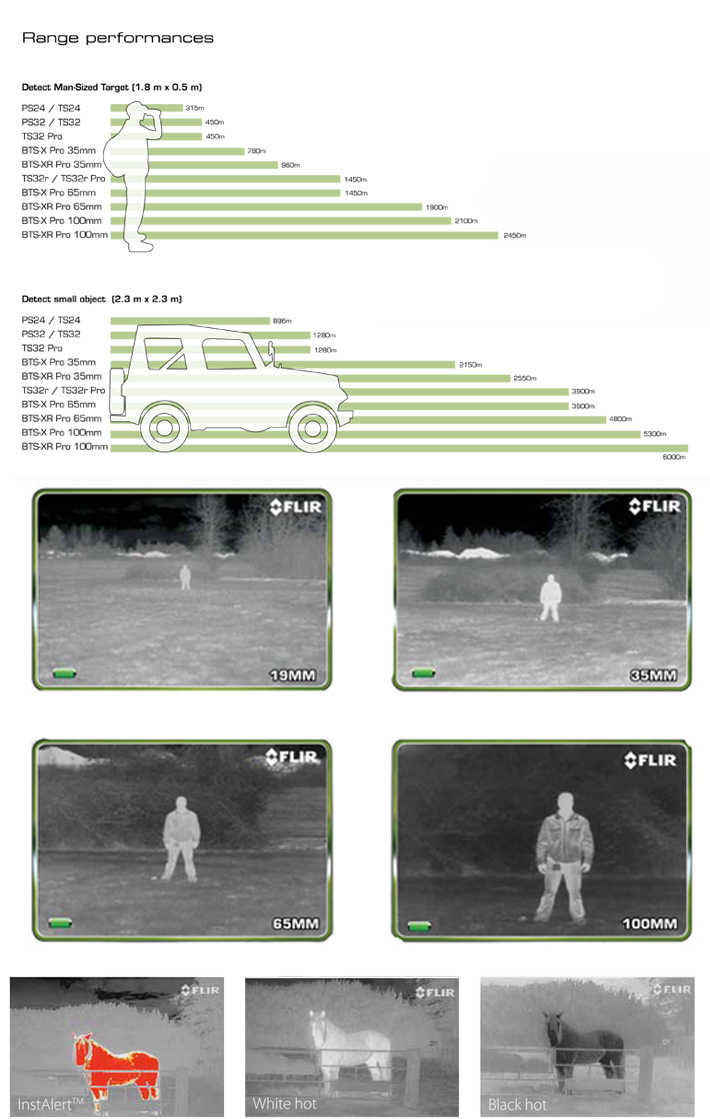 Additional Information
| | |
| --- | --- |
| SKU | TS-24 |
| Dimensions | 240 x 85 x 60 mm without extender |
| Detector Type | Uncooled Focal plane array Vanadium Oxide (VOx) microbolometer |
| Waveband | 7.5 to 13.5 μm |
| Start-up from Stand-by | < 1.5 seconds |
| Built-In Display | LCD screen |
| Viewfinder Video Output | PAL composite video; RCA jack |
| External Video (via RCA jack) | NTSC or PAL composite video; RCA jack |
| Still Image / Video Format | |
| Still Image / Video Storage | |
| Real-Time Clock | |
| USB2 Port | |
| Battery Type | 4 AA Batteries; rechargeable NiMH (included), non-rechargeable Li-Ion or Alkaline |
| Battery Life | > 5 hours on NiMH batteries - 120 hours in stand-by with NiMH batteries |
| Enclosure IP Rating | IP67 |
| Size | 240 x 85 x 60 mm without extender |
| FOV | 24° (H) × 18°(V) / 12°(H) × 9° (V) with 2X extender |
| Detect Man (1.8 m × 0.5 m) | 3.5m |