SURE24 to showcase new products at ALBUM this year
On 07 May 2019 – Transport CCTV specialists SURE24 / SURE Transport are set to exhibit at the ALBUM conference in Cardiff. SURE Transport will be launching a brand new product whilst exhibiting at ALBUM and will aim to raise awareness of the brand and their current successes in the transport industry.
Having been in the transport and CCTV industry since 1992 SURE Transport have built their reputation up through personal alarms and protecting the individual. In recent years SURE have worked with Tier 1 and 2 bus operators to fully kit their vehicles with the latest dome cameras, DVRs, bridge alerts and many other accessories which aid in operating these larger vehicles.
Whilst a company not only based in transport, working with industries as varied as police, covert surveillance, personal alarms and various others such as DIY night vision, SURE have had vast success in the transport sector. This makes the prospect of exhibiting at ALBUM very exciting as we are located in the luxurious Marble Hall of the grand City Hall in Cardiff. The exhibition is on between the 7-9th of May and will have many of the Tier 1 and Tier 2 bus operators attending.
SURE Marketing Manager Christopher Bird said, "It is a really great chance for the SURE Transport team to not only speak with customers that are already working with us, but really build on those relationships that have been restricted. There is never enough time to maintain all the conversations we wish to have as a business, so this will be a great way to eliminate the need to phone people and have those introductions face to face." "We are also launching a brand-new product, we believe that it will become a necessity in the bus market and we are really excited to see the reaction that those at our stand will have. The product is called 'SUREVIEW' but you will have to come to the stand to find out exactly what it does!"
To ensure their success at the ALBUM show, SURE Transport have enlisted the help of graphic design and print specialists Marler Haley based in Wellingborough. "We have worked with Marler Haley for a number of years when designing backdrops for our stands. They have always delivered on time with crisp imagery and have never let us down. With great prices, speedy delivery and guidance they are a company we would recommend here at SURE24." said Amanda Howell, Managing Director.
About SURE Transport:
SURE can provide equipment to fit all budgets and applications, including top-of-the line British manufactured Timespace or a complete custom one-box solution. Every SURE Transport system is custom designed to meet your exact requirements and can be delivered to you at a time and place that suits you. Alternately we can arrange one of our expert installers to fit at any location in the UK.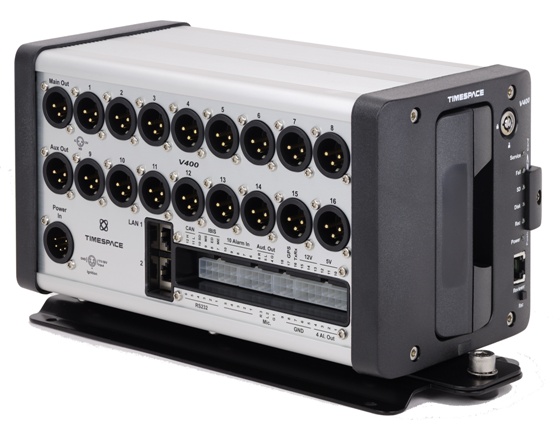 About SURE24
SURE are committed to offering the best possible surveillance and security products to our customers. With a strong link with Technical Support Units, the Police, Government Agency's, Private Investigators and the general public we can supply the best solution for any security related project.
By listening and responding to market requirements, SURE has earned its reputation for selling, developing and providing the right product at the right price. By combining its own design electronic and engineering resources with that of selected suppliers and key manufacturers across the world, SURE strives to keep at the forefront of technological know-how and introduce innovation across its product range.
Marler Haley's range of Display Stands
Display stands are a key ingredient to exposing your brand at a trade show, conference, job fair or any other event that requires your stand to do the talking. Pairing the right kind of exhibition stand with a good, solid design can speak volumes about your business and the products/services that you offer.
We offer a comprehensive range of display options to suit your every need. From pop up stands, banner stands to display boards and outdoor advertising, we have everything covered.
As a specialist in large format printing, we can print on a variety of materials including PVC, foam board and fabric to custom shapes and sizes. If you have a custom requirement, please contact us for a quote today.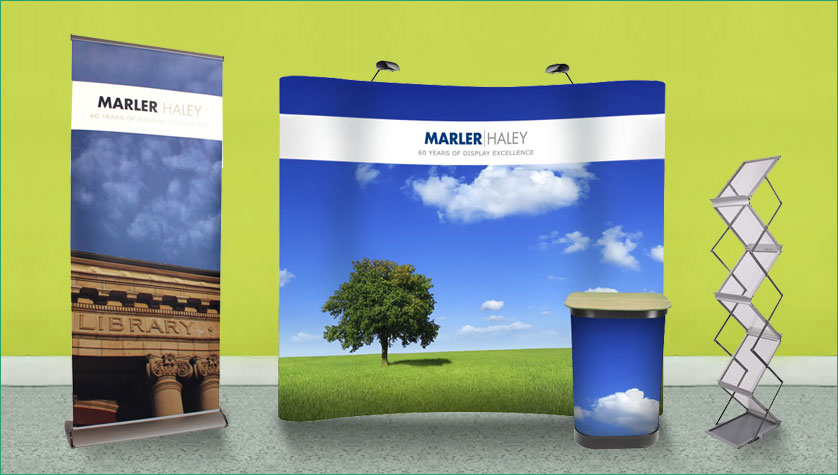 Posted in
News
By
Chris Bird